Saturday, September 10th 2022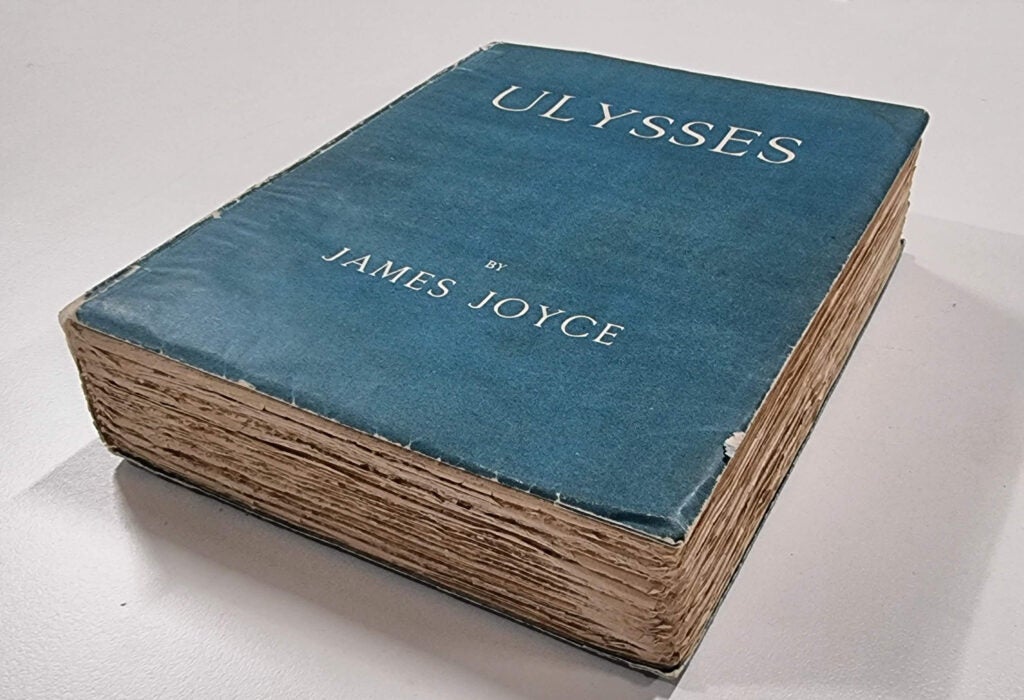 Georgetown University's Global Irish Studies Initiative presented:
Ulysses in the World
A symposium marking the centenary of the publication of James Joyce's Ulysses.
This event, which was free and open to all, took place on Saturday, September 10th.

"Ulysses in the World" brought together scholars, writers, and artists for a day-long symposium to discuss the lasting global impact of Joyce's work. Speakers considered how and where Ulysses has traveled in its first century, how it has mediated and built our world, and what its next century might look like. With papers on Joyce's reception in Russia; Ulysses's environmental consciousness; the novel's engagement with and impact on performing arts; and more, the symposium showcased the expanding boundaries of Joyce studies and the complex interactions of a novel and the worlds it makes and travels in.
"Ulysses in the World" was generously supported by the Emigrant Support Programme of the Department of Foreign Affairs of Ireland, in association with the Embassy of Ireland, along with the Department of English, Georgetown College, and the Office of the Provost.
On September 9 and 10, our Arts partner Solas Nua also presented a newly commissioned dance performance, influenced by Ulysses, and devised and choreographed by Liz Roche. More info.
Speakers
Alice McDermott, National Book Award winning novelist and the Richard A. Macksey Professor of the Humanities at Johns Hopkins University
Tope Folarin, novelist and winner of the Caine Prize for African Writing and a Whiting Award for Fiction
Amb. Daniel Mulhall, Ambassador of Ireland to the United States (2017-2022) and author of Ulysses: A Reader's Odyssey
Liz Roche, choreographer, co-founder and Artistic Director of Dublin based dance company Liz Roche Company
Prof. John Francis McCourt, Professor of English, Head of the Department of Humanities, and incoming Rector at University of Macerata
Prof. Michelle Clayton, Associate Professor of Hispanic Studies and Comparative Literature at Brown University
Prof. José Vergara, Assistant Professor of Russian on the Myra T. Cooley Lectureship in Russian Studies at Bryn Mawr College
Prof. Shinjini Chattopadhyay, Assistant Professor of English at Berry College
Prof. Barry McCrea, Donald R. Keough Family Professor of Irish Studies, University of Notre Dame
Prof. Gregory Baker, Associate Professor of English and Director of Irish Studies at Catholic University of America
Dr. Deirdre Mulrooney, author, journalist, and filmmaker
Prof. Kasia Bartoszynska, Assistant Professor of English at Ithaca College
Dr. Kiron Ward, Lecturer in US literature at University of Essex
Prof. Malcolm Sen, Associate Professor of English at the University of Massachusetts Amherst
Prof. Katherine O'Callaghan, Assistant Professor of English at University of Massachusetts Amherst
Dr. Joe Hassett, author of The Ulysses Trials: Beauty and Truth Meet the Law
---

This event was free and open to the public. If you wish to make a donation to support the Global Irish Studies series of free lectures and seminars, it will be gratefully received. Please go to our Giving page to make a tax-free donation or click on the button below