The Global Irish Studies Initiative 2021-2022 cohort is comprised of eight Fellows, four undergraduate and four graduate students.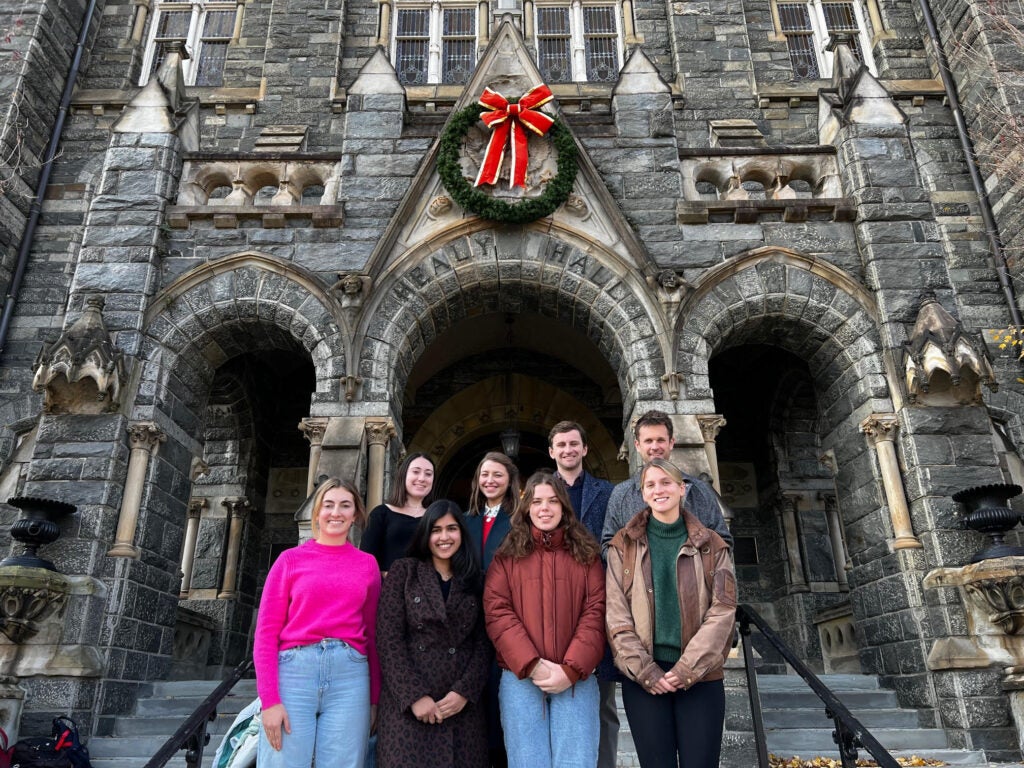 GIS supports undergraduate and graduate Fellows (all Georgetown students) in developing independent research projects (both critical and creative) that explore Irish Studies in a comparative or global context, focusing on Irish history, politics, literature, public health, business, and more. Our aim is to support student academic work on Ireland in whatever form it takes and in whatever discipline or school it takes place.
Learn more about our current GIS Fellows and their research projects below. The competition for 2021-22 Fellows is now closed, but students interested in becoming a Global Irish Studies Fellow for the 2022-23 year should check the application page in Fall of 2022.
If you are a friend of Global Irish Studies and you wish to support our Fellows program, contact Prof. Cóilín Parsons for more information.
---
The 2022 GIS Fellowship Research Symposium
On May 4th, 2022, we were proud to host our first annual Global Irish Studies Fellowship Research Symposium on Georgetown Main Campus. This event served as an end of the year celebration and presentation of the illuminating research conducted by our cohort. Each of the eight Fellows presented highlights of their projects and ongoing questions they had explored throughout their time working with Global Irish Studies. Below are some photos from the event: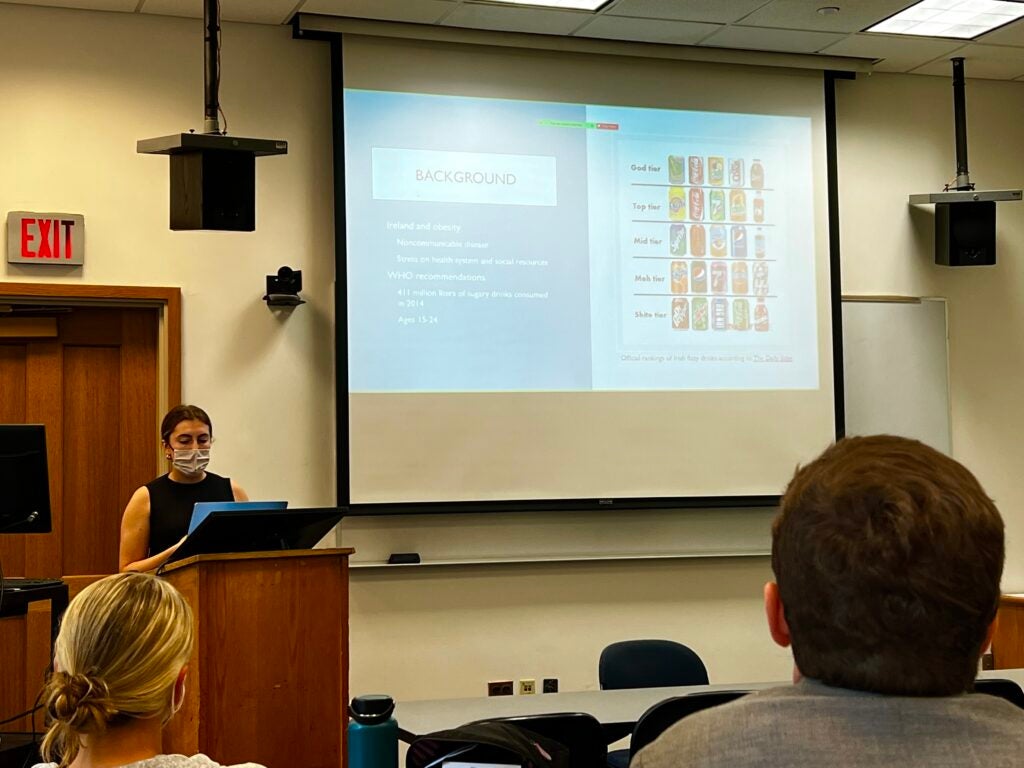 ---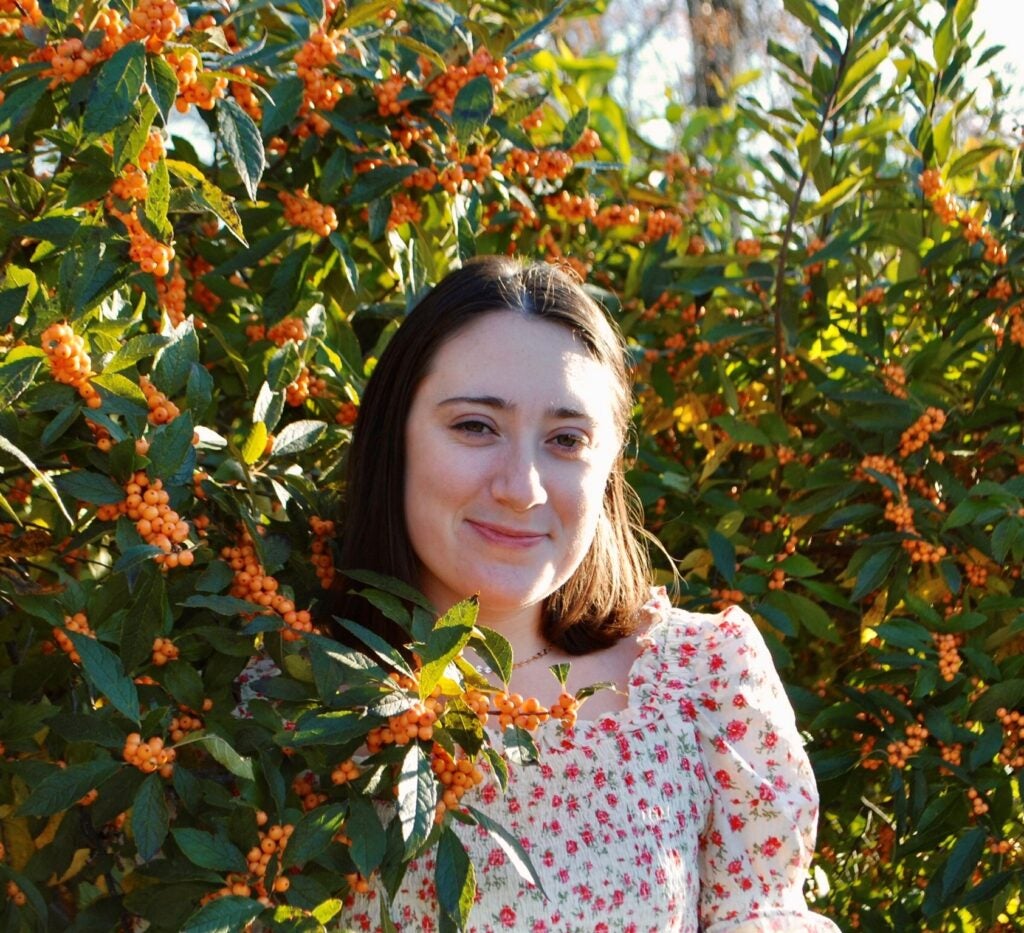 Marion Cassidy
Undergraduate
Marion is currently a junior in the College, and she is originally from Brooklyn, New York. She is studying History and Art History with a minor in Theater and Performance Studies. Her GIS Fellowship research will examine how performance has and can be used to remember the political divides and generational trauma of The Troubles between the Republic of Ireland and Northern Ireland. She believes that the arts can reveal and teach us so much about ourselves, others, and society. As a Fellow, she will explore how The Troubles have been portrayed and remembered through plays and hopes to create a short play based on oral and/or primary sources from the era.
---
Ryan Conner
Graduate
Ryan Conner is a current graduate student in European Studies at Georgetown University's School of Foreign Service. Through the 2021-22 Global Irish Studies Fellowship, Ryan will research the work of long-time Georgetown law professor Samuel Dash in Northern Ireland during the early years of the Troubles. In 1972, on behalf of a U.S.-based human rights organization, Dash observed the U.K. government's tribunal of inquiry into Bloody Sunday and wrote a book challenging the official report. This research will connect the Northern Ireland conflict to the international human rights politics of the 1970s. Ryan previously published research on the northern civil rights movement of the 1960s. He interned at the U.S. State Department during the fall semester and will intern at the Washington Ireland Program in the spring. Ryan writes in a personal capacity, and any views expressed during the fellowship are his own.
---
Casey Donahue
Graduate
Casey Donahue is a dual Master's candidate in History and Foreign Service. He studies peacebuilding processes and sociopolitical movements in the transatlantic space. With the help of the Global Irish Studies Fellowship, Casey hopes to advance two projects related to group identity and memory: a history capstone that tracks the evolution of "Irishness" in a Nebraska town since the 1870s; and a comparative examination of youth history education and civil conflict remembrance in Liberia, Northern Ireland, and the United States. Casey also speaks Arabic and has published on diverse topics, including funk music, Iranian opposition movements, and Afghan women's issues.
---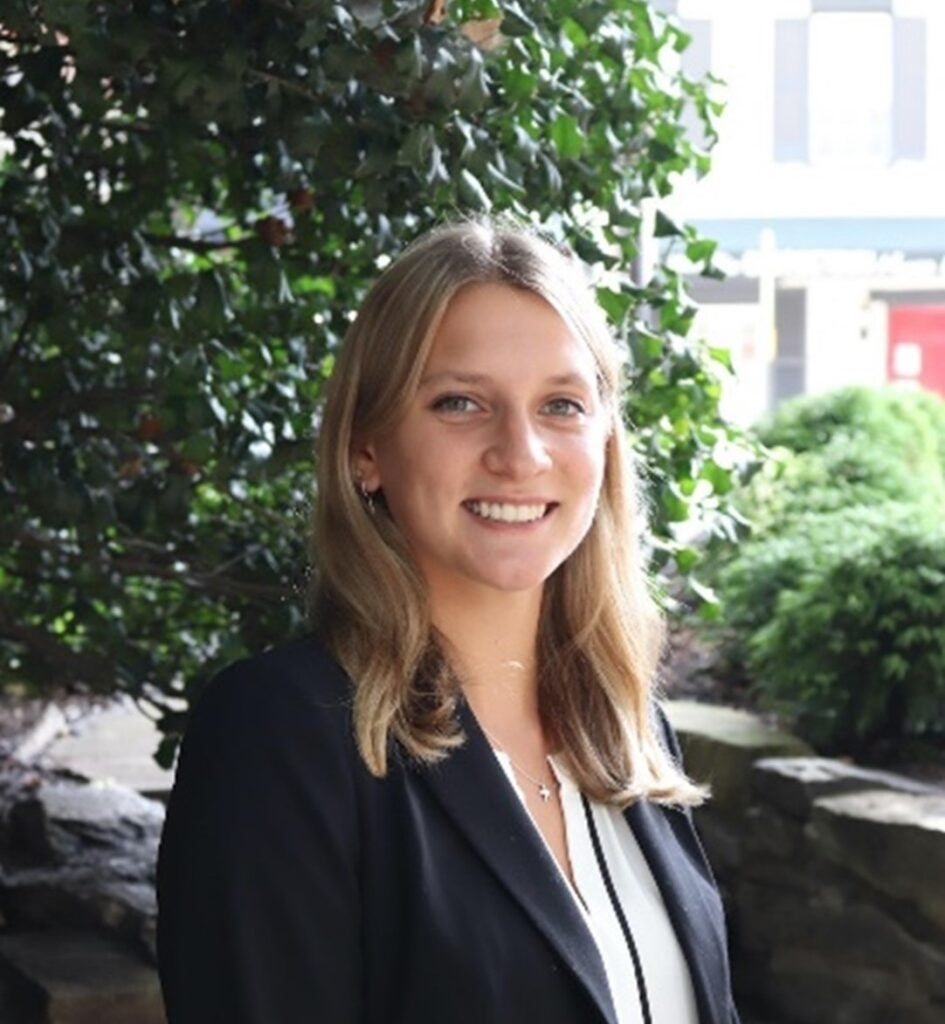 Nicole Marion
Undergraduate
Nicole Marion (COL'22) is a senior at Georgetown University double majoring in History and Government. Given her longstanding interest in Ireland and the United Kingdom, Nicole's project focuses on paramilitary women in Northern Ireland during the Troubles. This project will align with Nicole's Honors History thesis, comparing the motivations and experiences of Republican and Loyalist women with each other as well as with their male counterparts. With this project, Nicole is hoping to contribute to the under-researched study of paramilitary women during the Troubles and situate their experiences within the global context of Gender and Security Studies.
---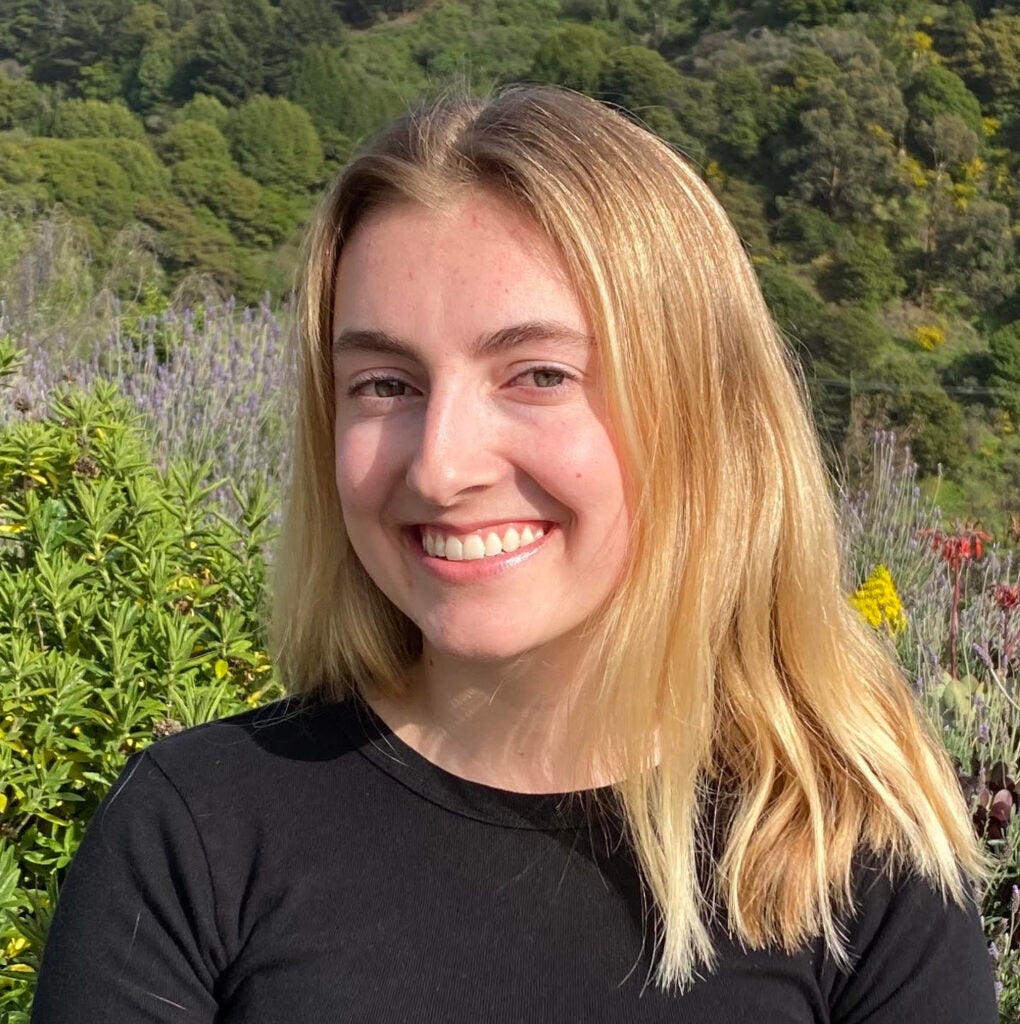 Siobhán Mitchell
Graduate
Siobhán is a graduate student pursuing her M.S. in Global Health, which she expects to complete in August of 2022. Before arriving at Georgetown, she received her B.A. in Spanish from Denison University, where her coursework focused on sociolinguistics, transatlantic literature, and Hispanic cinema. Her current research with the Global Irish Studies Initiative investigates the implementation and impact of taxes on tobacco and sugary sweetened beverages in Ireland, linking Irish Studies with her passion for public health. She values conversation and collaboration with fellow students and looks forward to learning from her peers in the GIS Fellowship program.
---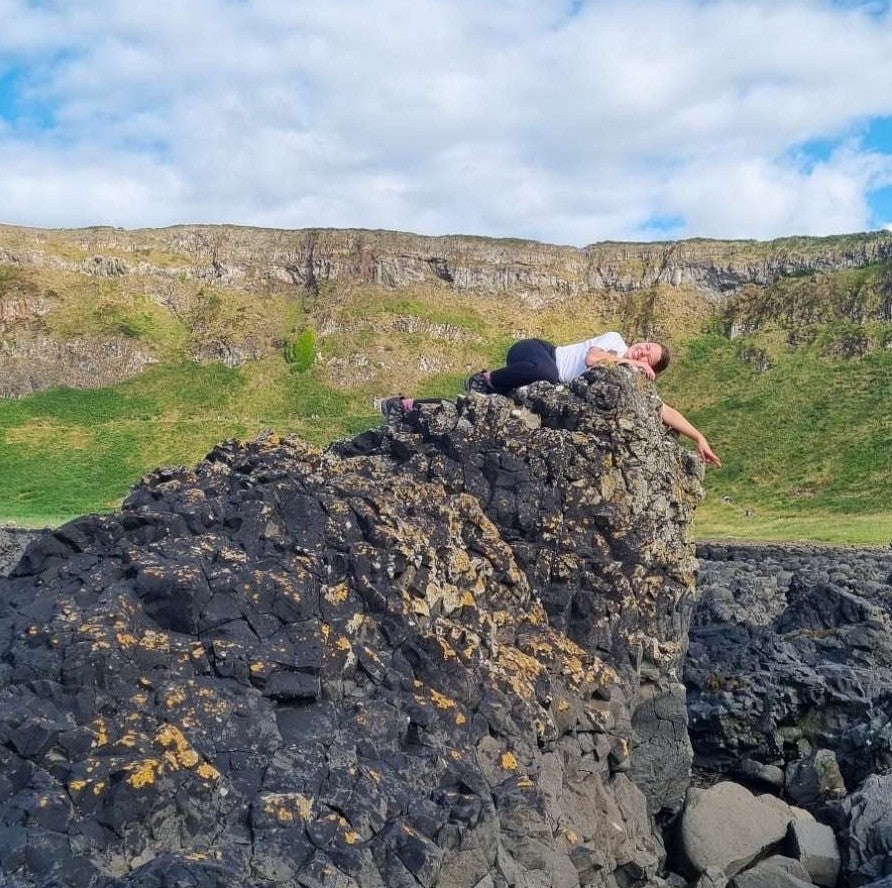 Maja Ochojska
Undergraduate
Maja (COL'23) is a junior in the College majoring in Government and minoring in Justice and Peace Studies, with a particular interest in conflict resolution and transformation. She lived in Northern Ireland for 12 years and considers it her home–she loves traveling around the island and discovering all that it has to offer! As a GIS Fellow, she will be exploring how progressive social politics have altered the perception of what it means to be Irish and Catholic, particularly how abortion legalization has been reconciled and accepted within those identities.
---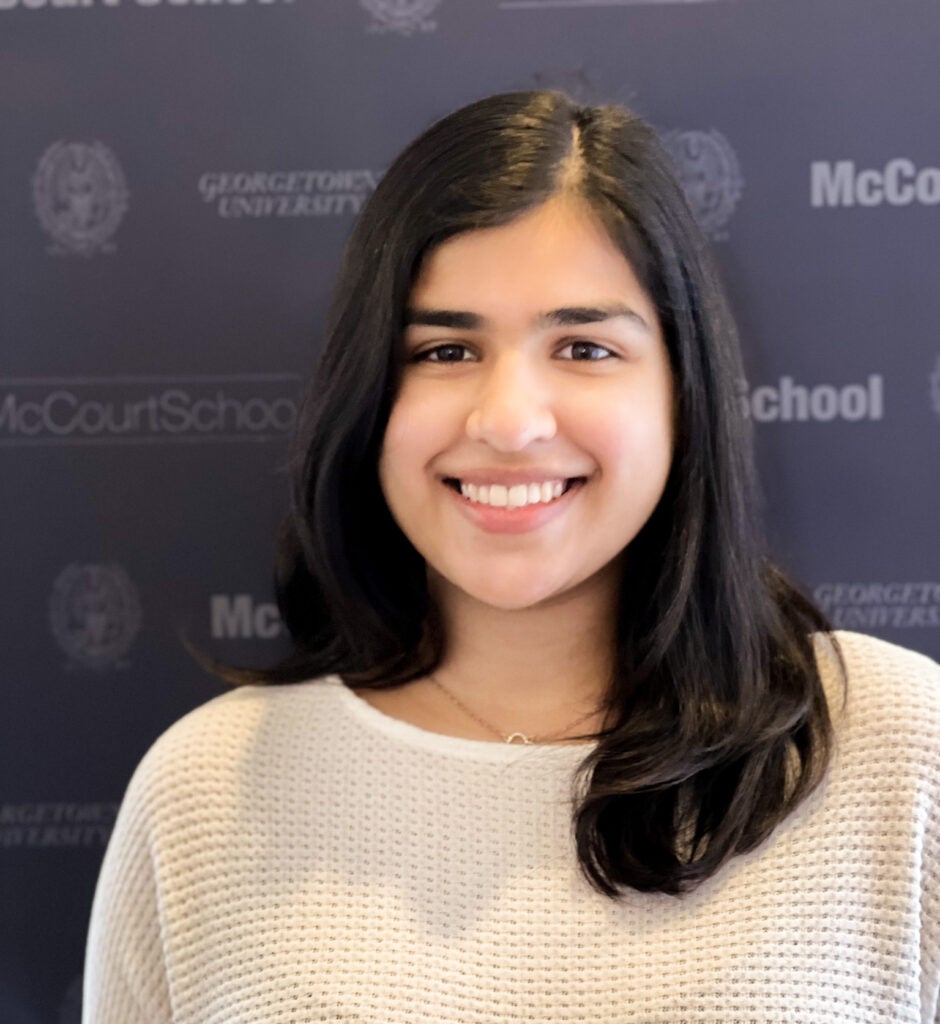 Alisha Saxena
Graduate
Alisha Saxena (she/her) is a Master of Public Policy candidate for the Class of 2023 at the McCourt School of Public Policy. Her interest in Ireland developed while a research intern for RepresentWomen, where she researched Ireland's electoral system. As a Fellow, Saxena will explore why Irish women are less likely to run for office and win elections, and she will specifically focus on determining if their unique electoral system contributes to these trends. The impacts of this political gender imbalance will be explored, and solutions will be proposed on how to progress towards political gender parity in Ireland.
---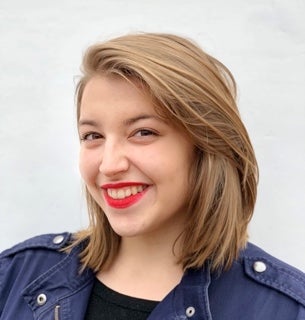 Isabella Turilli
Undergraduate
Isabella Turilli (SFS'22) is a senior in the School of Foreign Service majoring in Science, Technology, and International Affairs, with a Certificate in Diplomatic Studies. Her work and research at Georgetown focuses on global health governance and the impact of normative precedents on policymaking. As a Global Irish Studies Fellow, Isabella will extend those interests by exploring the legal concept of a "state of emergency" and its use – or lack thereof – in Ireland during the COVID-19 pandemic. Outside of her academic work, Isabella enjoys serving campus as an EMT with GERMS and performing with the Georgetown Chamber Singers.