Bridging the Atlantic–Ireland and the US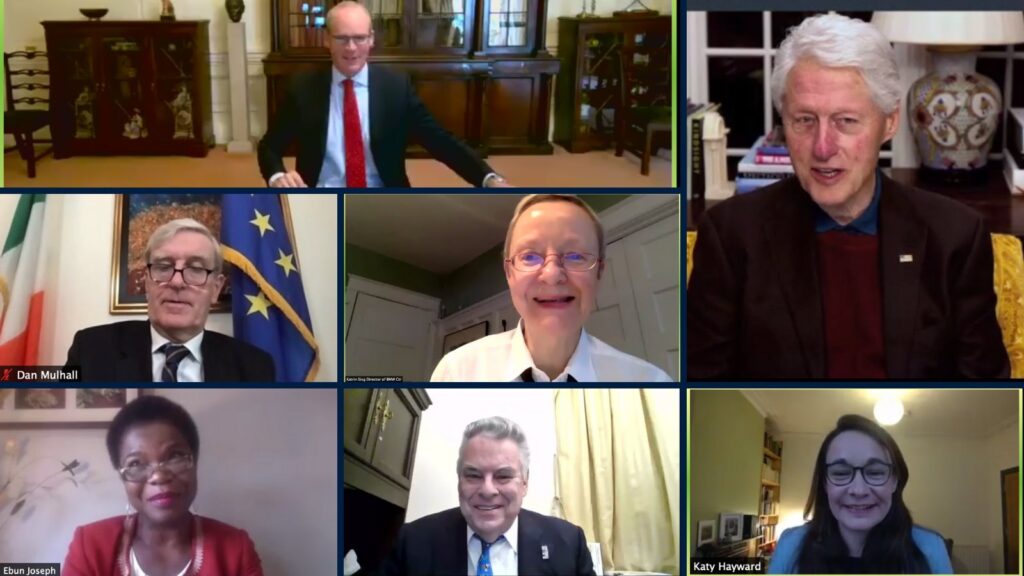 On November 17, 2020, Global Irish Studies and the BMW Center for German and European Studies, in conjunction with the Clinton Institute at University College Dublin, the William J. Clinton Leadership Institute at Queen's University Belfast, the Washington Ireland Program, and the Embassy of Ireland USA, hosted:
Bridging the Atlantic – Ireland and the US
Featuring Remarks by President Bill Clinton on Atlantic Relations in a New Era
Press Coverage
Bloomberg | MSN | Extra | Irish Times | RTE
At a time of significant political and economic upheavals there is much to consider in the relations between the two nations, including how they will develop in the wake of Brexit and of the November elections in the US. This online symposium provided an opportunity to reflect on key dimensions of Ireland-US relations at this time.
Opening remarks
Prof. Katrin Sieg (Director of the BMW Center for German and European Studies at the School of Foreign Service, and Professor of German)
Dr. John J. DeGioia (President, Georgetown University);
Prof. Richard English (Pro-Vice-Chancellor, Queen's University Belfast and Distinguished Professorial Fellow in the Senator George J. Mitchell Institute for Global Peace, Security and Justice)
Panel 1. Leadership as Bridge Building – A tribute to John Hume & John Lewis: The last year has seen the passing of two titans of civil rights politics, John Lewis and John Hume. We will consider their legacies in relation to outstanding questions of conflict transformation, racial justice and leadership in Ireland and the US. What does the future hold for the Peace Process in Ireland and what role might the US play? What is the role of Irish America in the current struggles for racial justice in the US?
Panelists: Prof. Brendan O'Leary (University of Pennsylvania); Dr. Ebun Joseph (author and activist); Prof. Kevin Gaines (University of Virginia); Prof Bonnie Weir (Yale University) Moderator: Dr. Joanne Murphy (Queen's University Belfast)
Remarks by President Bill Clinton on Atlantic Relations in a New Era
Panel 2. Keynote panel. A Special Relationship – The Enduring Influence of Irish-America: From Andrew Jackson to Barack Obama, 22 of America's 44 Presidents have had Irish heritage; on his inauguration next year, President-elect Biden will bring that share to over half. But as US demographics and immigration flows change, what does it now mean to be Irish-American? What role does the constituency play in US politics? And what does Irish-America mean for modern Ireland and its relationship with the United States?
Panelists: Simon Coveney, TD, Ireland's Minister for Foreign Affairs; Chairman Richard Neal (D-MA) and Rep. Pete King (R-NY), co chairs of the Congressional Friends of Ireland Caucus Moderator: Caitríona Perry (RTÉ News)
Panel 3. The Future of Transatlantic Relations: What difference will Brexit and the US elections make to relations between Ireland and the US? What are the key economic and diplomatic issues ahead?
Panelists: Daniel Mulhall (Ambassador of Ireland to the US); Ed Luce (Financial Times); Prof. Katy Hayward (Queen's University Belfast); David Henig (European Centre for International Political Economy); Dr. Thomas Wright (Brookings Institution) Moderator: Dr. Suzanne Lynch (The Irish Times)
This online event was free and open to the public. If you wish to make a donation to support the Global Irish Studies series of free lectures and seminars, it will be gratefully received. Please go to our Giving page to make a tax-free donation or click on the button below