Tuesday, October 26th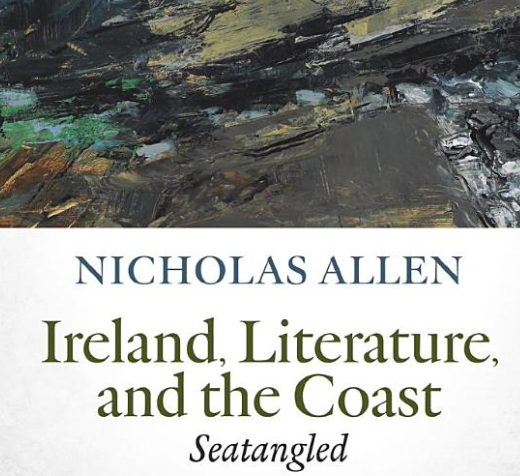 Global Irish Studies, in association with the Department of English and the Georgetown Humanities Initiative, hosted:
Seatangled: A Conversation on Irish Literature, Modernism, and the Sea
Drawing on recent developments in the study of literature from Ireland to the Indian Ocean, this conversation considered the implications for Irish literature of reading from the standpoint of the sea, the ocean, and the coast. It featured experts in Irish literature, modernism, and oceanic studies, and was inspired by the recent publication of Nicholas Allen's Ireland, Literature, and the Coast: Seatangled (Oxford University Press, 2020)
Featuring:
Nicholas Allen, Endowed Professor in the Humanities at the University of Georgia, and Director of the Humanities Center
Lucy Collins, Associate Professor of Modern Poetry at University College Dublin and Associate Dean of Graduate Studies
Harris Feinsod, Associate Professor of English at Northwestern University
Nicole Rizzuto, Associate Professor of English at Georgetown University
The conversation was moderated by Cóilín Parsons, Associate Professor of English at Georgetown University
About Nicholas Allen's book:
Allen's book reads Irish literature and art in the context of the island's coastal and maritime cultures, beginning with the late imperial experiences of Jack and William Butler Yeats and ending with the contemporary work of Anne Enright and Sinead Morrissey. It includes chapters on key historical texts such as Erskine Childers's The Riddle of the Sands, and on contemporary writers including Eiléan Ní Chuilleanáin and Kevin Barry. Situated within contemporary conversations about the blue and the environmental humanities, this book builds on the upsurge of interest in seas and coasts in literary studies. In doing so, it creates a literary and visual narrative of Irish coastal cultures across a seaboard that extends to a planetary configuration of imagined islands.
This online event was free and open to the public. If you wish to make a donation to support the Global Irish Studies series of free lectures and seminars, it will be gratefully received. Please go to our Giving page to make a tax-free donation or click on the button below