Wednesday, April 7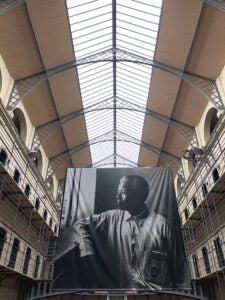 Global Irish Studies at Georgetown University, in association with Wabash College Department of English, GU African Studies Program, GU Department of English, and GU Humanities Initiative, hosted:
A Roundtable on South Africa, Ireland, and Postcolonial Comparison
Wednesday, April 7, 12-1:15pm EDT / 6-7:15pm SAST / 5-6:15pm IST (Virtual event)
In 1990, Nelson Mandela spoke of the 'unbreakable bonds of friendship and solidarity' between South Africa and Ireland, pointing to Irish support of the anti-apartheid movement. From the South African War to the fight against apartheid and the peace process in Northern Ireland, the shared history of Ireland and South Africa as two anomalous parts of the world imperial system has led to repeated expressions of solidarity and an insistence on the value of comparison between these two countries.
But South African / Irish comparisons are complicated, fraught with race, language, and power differentials that expressions of solidarity can occlude. Informed by a recent special issue of the journal Interventions: International Journal of Postcolonial Studies, this conversation will bring together experts in Irish and South African literature and culture to examine the complexities of comparing two formerly colonized countries, and to explore new ways of understanding a shared but unequal history.
Speakers:
Derek Attridge is Professor in the Department of English and Related Literature at the University of York, UK. He was born in South Africa, and some of his recent work is concerned with South African literature, including the Cambridge History of South African Literature (co-edited with David Attwell) and a study of the novels of J. M. Coetzee. He is well-known as a Joyce scholar, having published several books on Joyce and served for many years as a Trustee of the International James Joyce Foundation. Another interest is poetry and poetic form, reflected most recently in his 2019 book The Experience of Poetry: From Homer's Listeners to Shakespeare's Readers. He has held fellowships from the Guggenheim Foundation, the Camargo Foundation and the Leverhulme Trust, and is a Fellow of the British Academy.
Minesh Dass is Senior Lecturer in the Department of English at the University of Johannesburg. He has also taught English literary studies at Rhodes University and theory of literature at the University of South Africa. He has published work on notions of home and belonging in South African postapartheid writing, and on university institutional culture. His current research focusses on methods of literary analysis and their applicability to South African cultural study.
Aretha Phiri is Associate Professor of English at Rhodes University in South Africa. Her research broadly interrogates the intersectional interactions of race, ethnicity, culture, gender and sexuality/ies in comparative, transatlantic and transnational, considerations of identity and subjectivity, with a particular focus on American, African-American, and contemporary Afrodiasporic literature. She has published widely in the area of comparative African literature.
Robert J.C. Young is Silver Professor and Professor of English at New York University, and editor of Interventions: International Journal of Postcolonial Studies. His work has been founded on a critical analysis of race and racism in culture in all its manifestations, while following through to a second genealogy of counter-racist movements and actions in all their complex forms, particularly anti-colonialism. He is the author of many books, including White Mythologies: Writing History and the West (1990), Colonial Desire: Hybridity in Culture, Theory and Race (1995), and Postcolonialism: An Historical Introduction (2001). His current research and writing are centered on relations between language, philosophy, and translation, with a special focus on the work of Frantz Fanon.
The conversation will be moderated by Agata Szczeszak-Brewer, who is Professor of English and John P. Collett Chair in Rhetoric at Wabash College, where she teaches courses on South African Literature, Irish Literature, James Joyce, 20th-century British and Irish Literature, and Postcolonial Theory, among others. She has published two books: Empire and Pilgrimage in Conrad and Joyce (University Press of Florida, 2010) and Critical Approaches to Joseph Conrad (University of South Carolina Press, 2015). Her current book project is a comparative study of Irish and South African literatures.