Sunday, March 28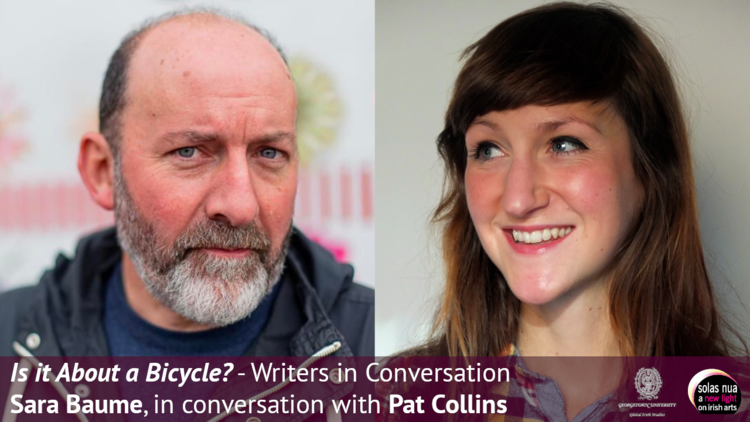 Solas Nua, in association with Global Irish Studies at Georgetown University, hosted
IS IT ABOUT A BICYCLE?: WRITERS IN CONVERSATION
Writer Sara Baume in conversation with filmmaker Pat Collins
Sunday, March 28
Is it About a Bicycle?: Writers in Conversation is a new series presented by Solas Nua and Global Irish Studies that brings together contemporary Irish writers or writers based in Ireland, with leaders and experts from a variety of sectors to explore their shared interests across disciplines. The title comes from Flann O'Brien's classic comic novel, The Third Policeman, a meandering tale about the nature of time, death, and the absurdity of human existence.
Sara Baume's debut novel, Spill Simmer Falter Wither, won the Geoffrey Faber Memorial Prize and has been widely translated. Her second novel, A Line Made by Walking, was shortlisted for the Goldsmiths Prize, a prize set up specifically to celebrate experimental fiction. Her debut non-fiction, handiwork, was published in the spring of 2020 and her third novel, Seven Steeples, will be published in the spring of 2022. She is a graduate of the International Writing Program run by the University of Iowa and the recipient of a Literary Fellowship from the Lannan Foundation in New Mexico. She lives on the southwest coast of Ireland, where she works as a visual artist as well as a writer.
Pat Collins. Since 1999, Pat Collins has made over 30 films. His latest feature documentary Henry Glassie Fieldwork – funded by Arts Council of Ireland and Screen Ireland – premiered at TIFF in 2019 and is due to be released in Ireland and the UK in Spring 2021.
He has made two feature films 'Song of Granite' and 'Silence' and has made films on the writer John McGahern, the poets Michael Hartnett and Nuala Ní Dhomhnaill, the actor Gabriel Byrne, the Connemara-based writer and cartographer Tim Robinson, the Iranian filmmaker Abbas Kiarostami (co-directed with Fergus Daly), and two political feature essay films 'What We Leave in Our Wake' (2009) and 'Living in a Coded Land' (2014).  
He is currently completing a documentary on the production of Mám by Dance group Teac Damsa and a short film 'All -Ways' funded by the Arts Council.