Friday, March 17th, 2023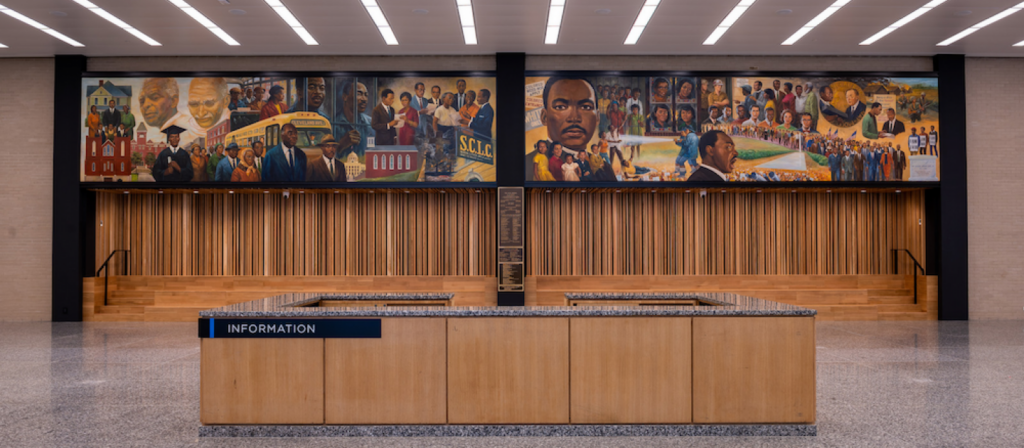 Global Irish Studies at Georgetown University, Solas Nua, the D.C. Public Library, and Politics and Prose Bookstore presented:
Irish Book Day
Lá Fhéile Pádraig / St. Patrick's Day
This event took place in person at the Martin Luther King Jr. Memorial Library on Friday, March 17, 2023.
Attendees who registered had the opportunity to discover new Irish writing and to pick up a free copy of a book of their choosing, from any of the three writers taking part. Politics and Prose Bookstore also offered a selection of new Irish writing, available for purchase.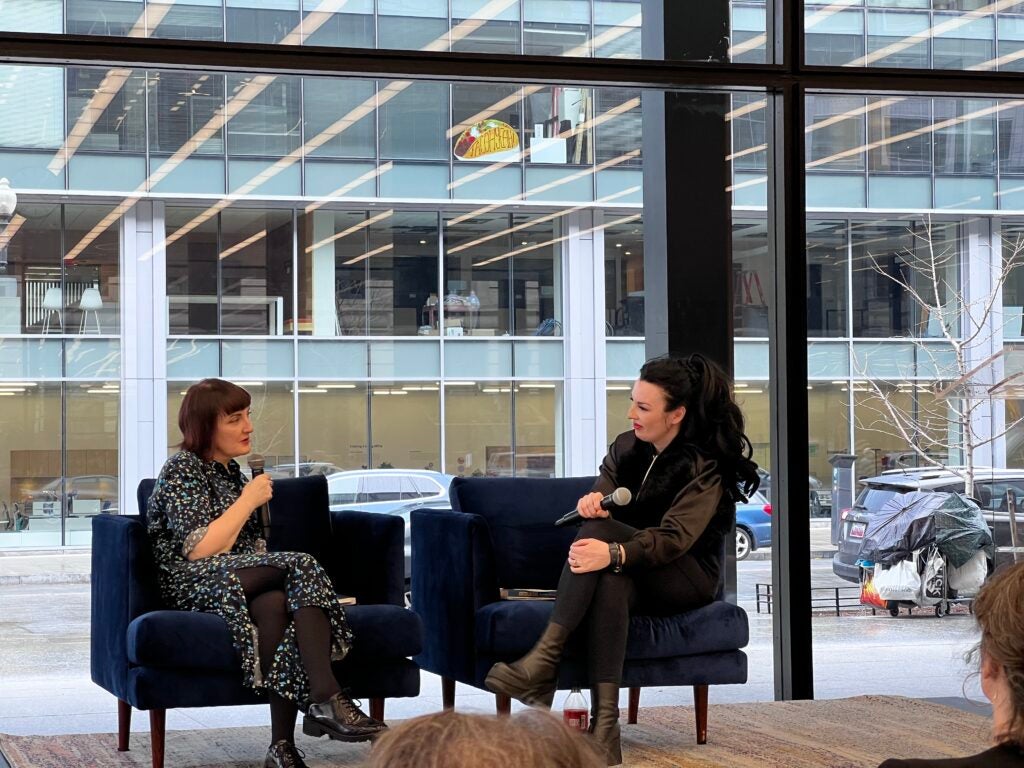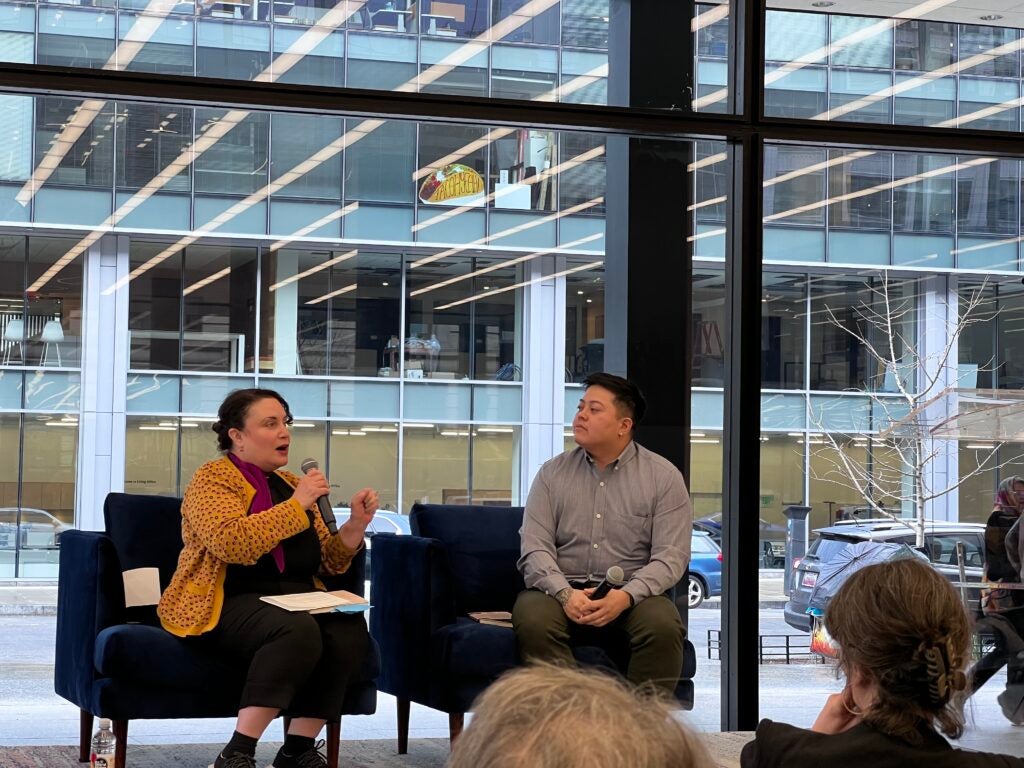 Expanding on Solas Nua's long tradition of providing Washington D.C. with free Irish books on St. Patrick's Day, this year the Georgetown Global Irish Studies Initiative was delighted to become a partner along with the D.C. Public Library and Politics and Prose Bookstore for an afternoon of events at the Martin Luther King Jr. Memorial Library, to celebrate creative non-fiction in Irish literature. We were pleased to welcome to D.C. three writers, Sinéad Gleeson, Adrian Duncan and Jayne A. Quan, based in Dublin, Berlin and L.A. respectively.
The event included readings by the authors, who were also in conversations with Georgetown University English Professor Jennifer Natalya Fink, visual artist Aideen Barry, and more. The day culminated with The Haunted Haunting Women, a text, sound and visual performance by writer Sinéad Gleeson and composer Stephen Shannon.

The Haunted Haunting Women
A girl in 1930s Ireland is haunted by the ghost of her father, who died tragically. Her mother can tell the future based on a stranger's hand of cards as they play on the tenement landing, where she regularly sees the ghost of a soldier. In the present, a writer remembers these women, and the psychic seam that runs through the female line of her family; the legacy of trauma and poverty, the finite horizon afforded poor women, living their days out in small circumferences, and how history and memory have a way of never fully disappearing.
ABOUT THE WRITERS
Jayne A. Quan is, in no particular order, a queer, transmasculine, non-binary Asian American who received their Master of Arts from University College Dublin. Their work has been featured in Banshee, Call & Response, First Person PBS, and Advice For and From the Future. They were shortlisted for the 2019 Cosmonauts Avenue Non-Fiction Prize. Their collection of essays, All this happened, more or less, was published by Skein Press in 2022. They grew up off the coast of California, worked as a photographer in New York City, and enjoyed the rain in Dublin. Controversially, they claim to love cats and dogs equally.
Sinéad Gleeson's essay collection Constellations: Reflections from Life was published by Picador in 2019 and won Non-Fiction Book of the Year at 2019 Irish Book Awards and the Dalkey Literary Award for Emerging Writer. It was shortlisted for the Rathbones Folio Prize, the James Tait Black Memorial Prize and Michel Deon Prize and was translated in several languages. She is the editor of The Long Gaze Back: An Anthology of Irish Women Writers (named for a line from Maeve Brennan, which includes a story by Brennan), The Glass Shore: Short Stories by Women Writers from the North of Ireland and The Art of Glimpse: 100 Irish Short Stories. Sinéad also collaborates with artists and musicians, with commissions from The Wellcome Collection, BBC, Frieze and various galleries. In 2022, she co-edited This Woman's Work: Essays on Music with Kim Gordon. Her debut novel will be published in 2024.
Adrian Duncan is an artist and writer from Longford. His latest film Prosinečki (21 mins) world premiered at Rotterdam (IFFR) in January 2023. His latest novel, The Geometer Lobachevsky was published by The Lilliput Press in 2022. His latest work of nonfiction Little Republics: The Story of Bungalow Bliss was also published by The Lilliput Press in late 2022. Accompanying this book was an exhibition at the Irish Architectural Archive (curated by Askeaton Contemporary Arts) called Little Republics: Preparations and Elements. He is co editor of Paper Visual Art Journal and PVA Books.
ABOUT THE OTHER PARTICIPANTS
Stephen Shannon is a composer who writes and composes for film and tv. His most recent film work includes scores for Claire Dix's feature film Sunlight (2023), Kim Bartley's award winning documentary Pure Grit (2021) and The Ex Wife (2022), a four part TV drama for Paramount. Previously, he composed the scores for an adaptation of Daniel Woodrell's Tomato Red, and the gothic horror, The Lodgers. Stephen has also co-composed and performed new scores for classic films including Tarkovksy's Solaris, which debuted at the 2022 New York Film Festival; Night Of The Living Dead at Dublin's National Concert Hall; and The Adventures of Prince Achmed at BAM.
He and the writer Sinéad Gleeson were commissioned to work on We Are The Map, to accompany Alice Maher and Rachel Fallon's Map at Rua Red Gallery, Dublin (2021). They also worked with artist Aideen Barry on her show Oblivion (2021) at Limerick City Gallery. They have also performed text and original music at The Dock, Leitrim, Los Gatos Writer's Festival, California, Muldoon's Picnic.
Jennifer Fink is core faculty in the Program in Disability Studies and a professor of English at Georgetown University. She is the author of All Our Families: Disability Lineage and the Future of Kinship, as well as seven other books and countless plays, and is founder of the Gorilla Press, a nonprofit promoting youth literacy through bookmaking. Fink is the winner of the Dana Award for the Novel and the Catherine Doctorow Prize for Innovative Fiction, and a finalist for the Lambda Literary Award. She is a 2023 recipient of Georgetown's President's Award for Distinguished Scholar-Teachers. Her writing on disability lineage has been featured in the New York Times, Lit Hub, and other publications.
Aideen Barry is an artist based in Ireland, whose work encompasses a vast range of disciplines and subjects, including domestic labour, environmental changes, and human vulnerability. She has exhibited widely throughout the world, she is currently artist in residency at the ISCP NYC award by Temple Bar Gallery & Studios. She is a member of Aosdána and the RHA. She teaches in several universities in Ireland, Europe and the USA.

Supported by Dennis Houlihan and Mimi Conway and the Dupont Circle Hotel
This event was free and open to the public. If you wish to make a donation to support the Global Irish Studies series of free lectures and seminars, it will be gratefully received. Please go to our Giving page to make a tax-free donation or click on the button below