Wednesday March 16, 2022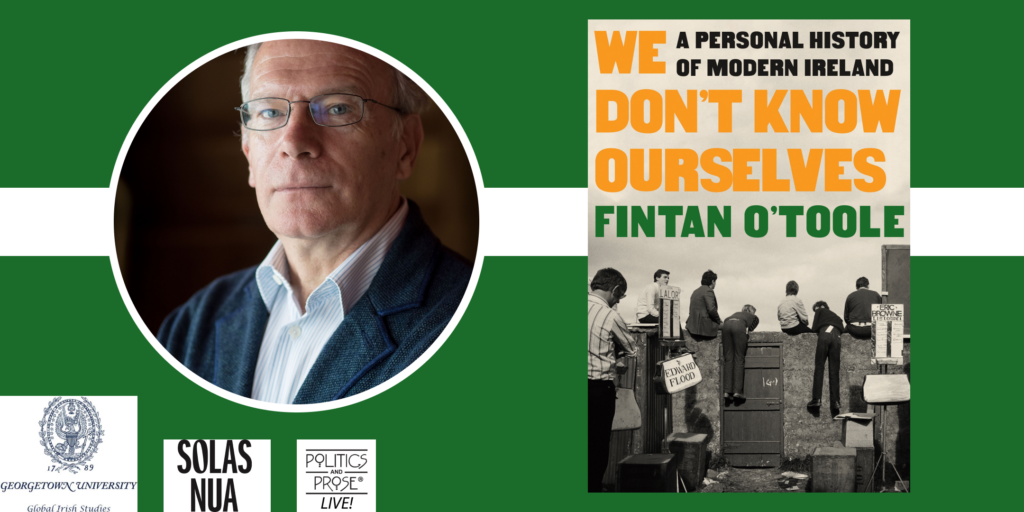 Politics and Prose in association with Solas Nua, Global Irish Studies, and the Embassy of Ireland presented:
Irish Voices: Fintan O'Toole
Author Fintan O'Toole discussed his forthcoming book, We Don't Know Ourselves. This event took place in person at 7pm EST on March 16th at Politics and Prose Bookstore Union Market location.
Attendees must provide an ID, proof of vaccination, and wear a mask during the event.
Fintan O'Toole was born in the year the revolution began. It was 1958, and the Irish government―in despair, because all the young people were leaving―opened the country to foreign investment and popular culture. So began a decades-long, ongoing experiment with Irish national identity. In We Don't Know Ourselves, O'Toole, one of the Anglophone world's most consummate stylists, weaves his own experiences into the social, cultural, and economic changes Ireland was facing, showing how the country, in just one lifetime, has gone from a reactionary "backwater" to an almost totally open society—perhaps the most astonishing national transformation in modern history.
O'Toole is also a columnist for the Irish Times and a professor at Princeton University. A regular contributor to the New York Review of Books and the Guardian, as well as the bestselling author of The Politics of Pain and other books, he lives in Princeton, New Jersey, and Dublin, Ireland.