Wednesday, November 29, 2023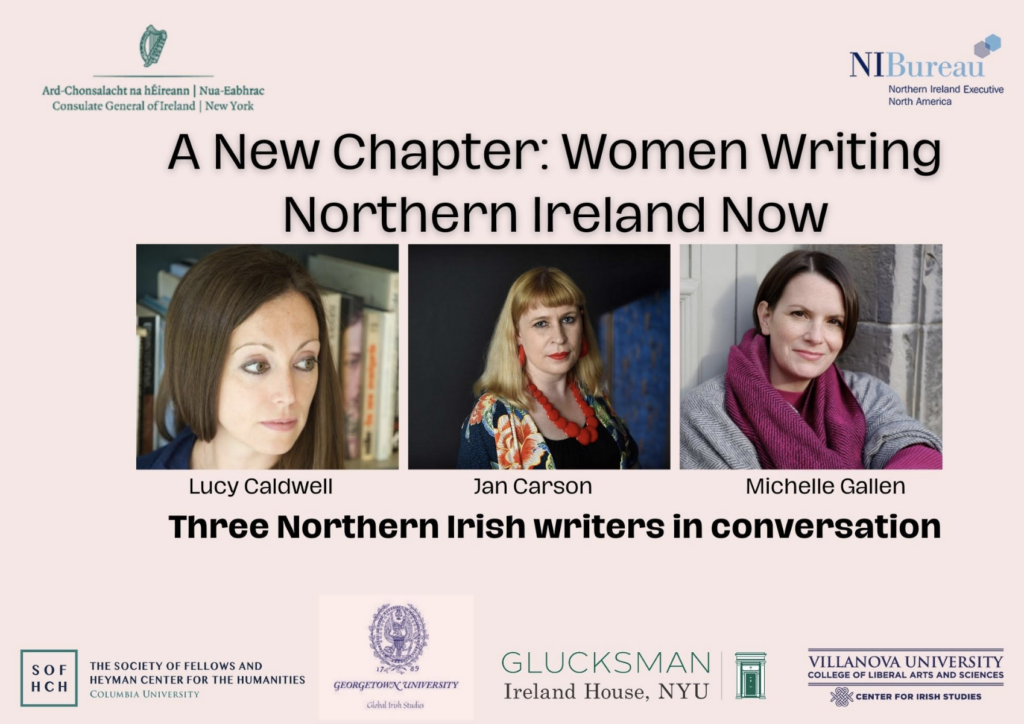 Georgetown University's Global Irish Studies and Solas Nua, in association with the Consulate General of Ireland (New York), the Northern Ireland Bureau, Glucksman Ireland House (New York University), the Society of Fellows and Heyman Center for the Humanities (Columbia University), and the Center for Irish Studies (Villanova University), present:
A New Chapter: Women Writing Northern Ireland Now
Wednesday, November 29, 6:00-7:30 pm.
This event will be held in ICC Auditorium in Georgetown University's Intercultural Center. Directions to ICC can be found here. This event will be free and open to the public, but registration is required.
Join us for an evening of readings and conversation with award-winning authors Lucy Caldwell, Jan Carson, and Michelle Gallen. The authors will discuss growing up in Northern Ireland during The Troubles and its continuing impact on their lives, communities, creative work, and Irish culture more broadly.
Meet Our Authors
Lucy Caldwell, born in Belfast, is the author of four novels, several stage plays and radio dramas, and two collections of short stories, with a third forthcoming in 2024. Awards include the Rooney Prize for Irish Literature, the George Devine Award, the Dylan Thomas Prize, a Major Individual Artist Award from the Arts Council of Northern Ireland, the BBC National Short Story Award, and the Walter Scott Prize for Historical Fiction. She was elected a Fellow of the Royal Society of Literature in 2018 and, in 2022, was the recipient of the EM Forster Award from the American Academy of Arts & Letters.
Jan Carson is a writer and community arts facilitator based in Belfast. Her first novel, Malcolm Orange Disappears, was published in 2014 followed by a short-story collection, Children's Children (2016), and two Postcard Stories anthologies. Her second novel, The Fire Starters (2019), won the EU Prize for Literature and was shortlisted for the Dalkey Novel of the Year Award. The Raptures (2022) was shortlisted for the An Post Novel of the Year and the Kerry Group Novel of the Year. Her short story collection, Quickly, While They Still Have Horses, is forthcoming in Spring 2024. Jan is a fellow of the Royal Society of Literature.
Michelle Gallen was born in Northern Ireland in the mid-1970s and grew up during the Troubles a few miles from the border between what she was told was the "Free" State and the "United" Kingdom. She studied English literature at Trinity College Dublin, then survived what doctors now suspect was autoimmune encephalitis in her mid-twenties. Her debut novel, Big Girl, Small Town was shortlisted for the Costa First Novel Award. Her critically acclaimed second novel, Factory Girls, won the Comedy Women in Print award and was shortlisted for the RSL Encore Award. Both books are being adapted for television.
//
This event is the concluding segment of a three-part discussion transpiring over three days, in New York (Nov 27), Villanova (Nov 28), and Washington, DC (Nov 29).

This event is free and open to the public. If you wish to make a donation to support the Global Irish Studies series of free lectures and seminars, it will be gratefully received. Please go to our Giving page to make a tax-free donation or click on the button below: