Tuesday February 22, 2022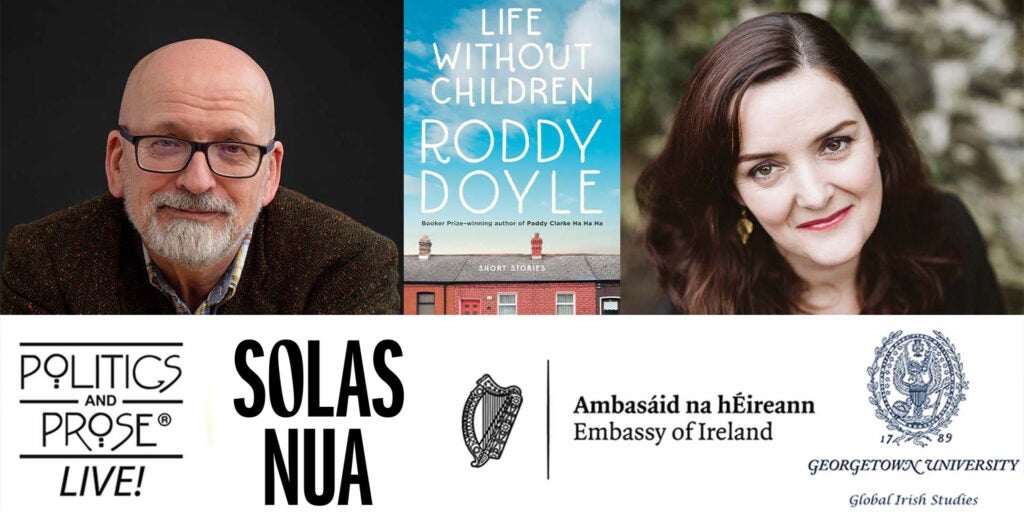 Politics and Prose in association with Global Irish Studies, Solas Nua, and the Embassy of Ireland presented:
Irish Voices: Roddy Doyle and Nuala O'Connor
Love and marriage. Children and family. Death and grief. Life touches everyone the same. But living under lockdown, it changes us alone.
In these ten beautifully moving short stories written mostly over the last year, Booker Prize winner Roddy Doyle paints a collective portrait of our strange times. A man abroad wanders the stag-and-hen-strewn streets of Newcastle, as news of the virus at home asks him to question his next move. An exhausted nurse struggles to let go, having lost a much-loved patient in isolation. A middle-aged son, barred from his mother's funeral, wakes to an oncoming hangover of regret. Life Without Children (new window) cuts to the heart of how we are all navigating loss, loneliness, and the shifting of history underneath our feet.
Roddy Doyle was born in Dublin and is the author of eleven acclaimed novels, including The Commitments, The Van (a finalist for the Booker Prize), Paddy Clarke Ha Ha Ha (winner of the Booker Prize), and most recently, Love. Doyle has also written several collections of stories and several works for children and young adults.
Nuala O'Connor was born in Dublin and is a graduate of Trinity College. She has won many prizes for her short fiction including the Short Story Prize in the UK and Ireland's Francis MacManus Award. She is editor at flash e-zine Splonk. Her most recent book is Nora: A Love Story of Nora and James Joyce.